Description
Lora gateway GW-01-PoE.
Industrial SX1301 based multicannel LoRa concentrator.  
Hardware.
GW-01-PoE is open source LoRa gateway compatible with LoRaWAN protocol. Based on OpenWrt. Contain 
SX1301
– 8 channel LoRa concentrator that implements LoRa physical interface and 
IMX6ULL
processor.
Ready to work out of box so you can just power up the device and get working gateway. Depending on required frequency band two types of device can be ordered: 868 MHz or 915 MHz;
Antenna.
By default, we ship base station with development antenna (10 cm length on the photo). Optionally you can order industrial antenna (1.5 meter length on the photo).
Software.
You can build OpenWrt image from
source code
in a case if you need customize your LoRaWAN gateway.
Packaging:
Lorawan gateway GW-01;
External antenna;
Specification:
Temperature range from -35°C to 70°C;
Power supply – PoE 48V;
Sensitivity: -139 dBm;
Frequency: 868 MHz or 915 MHz;
External antenna;
Ethernet 10/100;
Dimensions 80х50х20 mm without antenna;
LoRaWAN protocol implemented by lora-gateway и packet-forwarder libraries;
IC SX1301 (8 channel LoRa concentrator);
Range up to 2.5 км among the buildings, and up to 10 kilometers on open space.
What is PoE.
Probably you want to place lora gateway on top of some tower, grider, roof or any other place without any power supplies. Power over ethernet (PoE) technology gives you way to deliver power for device via ethernet cable without providing separate power channel to place of device to be placed.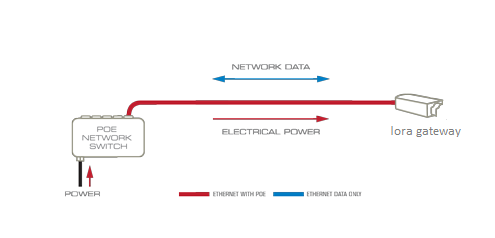 Notes.
Depending on frequency used in your country you may need to configure gateway with suitable frequency plan. But it is can be easily done just by replacing single text file named global_conf.json. You can find some explanation of frequency plans here. Just get corresponding configuration file and replace existing global_conf.json with new one. For example you need use EU868 frequency plan with 868MHz gateway in Europe. US915 and 915MHz gateway in USA. Tell us if you want to get pre-configured gateway and we will do it before ship it.
Resources.
You can find all necessary sources and guides here or get them at wiki page:
Cerification.
ЕАЭС N RU Д-RU.BE02.B.09586_20_resized
Fast prototyping.
If you are going to prototype LoRa based IoT solution you may need to get three main components of LoRa network:
LoRaWAN gateway;
At least one end node;
web server;
Usually, for prototyping and demonstration of MVP solution it is no matter what is represents Server side. The easiest way to get it based on
thethingsnetwork
cloud. Just register and get it working. More simple way to use
cloud.m2m-tele.com
, – you will automatically get free account for this platform at ordering GW-01. Email as to get free account without ordering the gateway. You can use guest account – guest/guest1 to try it. This cloud built on
loraserver
with some modifications. Any way to configure gateway with any server you need to modify jsut three params in
global_conf.json
mentioned above:

Example of gateway registered on TTN: